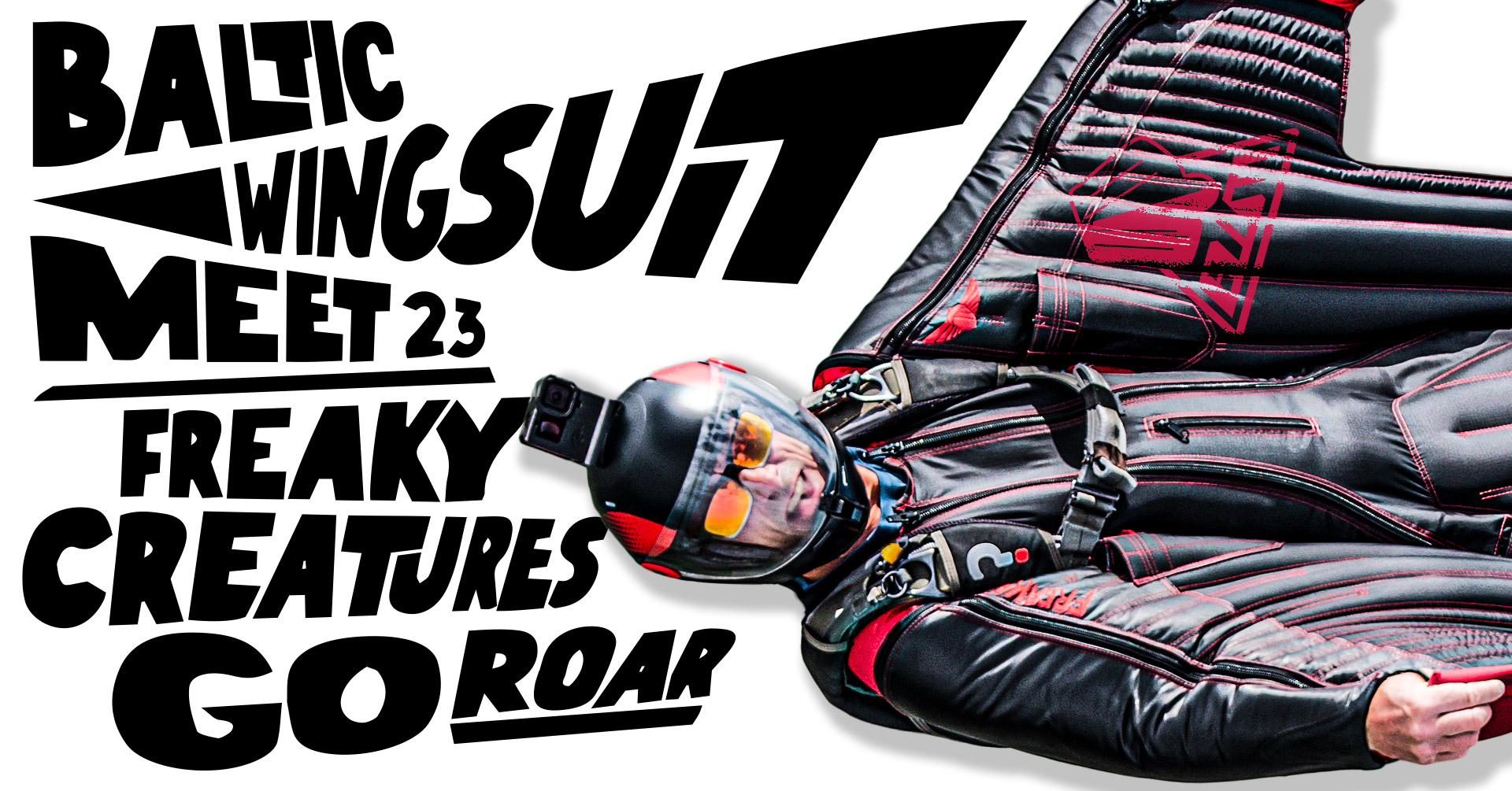 Baltic Wingsuit Meet 4 th edition
Baltic Wingsuit Meet 2023
This is a five-day meet for highly skiled wingsuiters only.
BWM is 3in1 event: boot camp, skill camp and boogie all wrapped in one!
This year there will be no specific focus for the event. The years before were intense and full focus on breaking records. The records are in the books and so now this year we can focus simply on…
WS LEVEL YOU UP by GO ROAR!!!!
We run the website where you can find all essential information's, past years videos etc.
The plan is as follows:
• Enjoy your time!
• Make as many quality wingsuit skydives as your wallet will permit.
• Sharpen your skills being surrounded by top level flyers who love to share their passion and knowledge for flying.
• Eat pizza and drink πwo (means BEER)
• Become envious that you may need to buy a Creature…
• Enjoy various wingsuit related seminars
• Be a part of jumps filmed by world-class wingsuit photographers, to make your social media explode!
• Build tight formations with back flying, moving pods, V's & X's and multiple points
• Get real performance from your wingsuit with 270s, flares, layouts, hammerheads…
• Enjoy the video of the day!
• Take to test latest and the best WS Gear
• Let DJ Oscar fill you with good vibes!
• Check what vendors are offering at the famous BWM lottery.
• Have fun!
WSpoint LO fellows:
– Piotr Walasek (PL)
– Daniel Culbertson (NO/USA)
– Par Safstrom (SE)
– Christian Busch (DE)
Invited Full Framers:
– Tomasz Nowicki (PL)
– Andrew Ford (GB)
We will have two caravans, one that seats 14 and the other 16, ready to combine in one formation so… 
So, without a doubt, we will GO BIG ROAR, in full effect.
Besides all kind of WS formations, be ready for:
– XRW
– Night Jumps
– Terrain jumps
We know there are plenty super fantastic flyers out there! Come out of the shadows and join BWM. Together we will make an event as no other on planet earth!
BTW… strong Freak/Mako flyers will have priority and highly skilled ATC / Barracuda Power / Strix flyers will be evaluated before acceptance.
Disclaimers:
– Remember that flying competition suits in big formations are generally frowned upon as you create large burbles! So… 
– As boot camp main rule, we again will aim for 8 jumps per day to make you sick and tired of us 
. Gruelling as it is, we will still have time for a break midday to refuel and possibly a power nap.
– If you are looking for a small group event, sorry, but you are looking in the wrong place 
Similar as in previous editions of BWM, food and water will be provided, and bunkhouses are available at the DZ.
Event costs will be same as last year:
– Entry fee – 350€
– Regular jump ticket – 150PLN (~32€)
– Night / Terrain / 2 planes formations jump ticket 200PLN (~42€) (due to prolonged time in the air)
– Food HB 90PLN (~20€) per day (Included whole day: Coffee, tea, water and soft drinks at night)
– DZ Hostel 50PLN (~11€) per day (40 bunks) (33 kompletów pościeli)
Important:
Only 54 slots available!
If you have any questions regarding the BWM, please send an email to wingsuitpoint@gmail.com